This past Saturday was Nashville's Annual Pet Expo, and the second time we've gone!
Since Kevin was a drill it was really just me, the baby, and Willow. I knew there was bound to be other critters there and I'm still working on maneuvering the stroller and wrangling dogs, I figured I'd just take one. Plus I was hoping for another shot at the lure course!
We started the day off with adjusting the stroller for Leelynn. Up until now he had been sitting in his car seat attachment facing me, this time we decided to try him sitting up facing out! He loved riding like that by the way!
When we walked inside the building it was all bit overwhelming! There was so much commotion!
We managed to stop by nearly all the booths, I swung by OpEds booth to say hi, then went and saw the people at Dogs on Deployment, Preston from Preston Speaks was also at the Expo but when we stopped by their booth they were off doing their speech on traveling with dogs.
There were a lot of photographers who had booths and other artists of various media, a few of which were interested in using Willow as a model
Between the boutiques, rescues and non-pofits had a lot of nice things for sale, some really caught my eye.
There were TONS of treats for all the pups that were there, Willow turned her nose up at most of them, despite her jumping up on the tables to get a better sniff, one of the ones she decided she did like was a yogurt bar from For Tails Only.
Of course when I saw these really neat dog floats from Lazy dog Loungers, I had to stop and chat for a bit, and try one on for size!
Now of course we did the Lure Course; which Willow absolutely loves!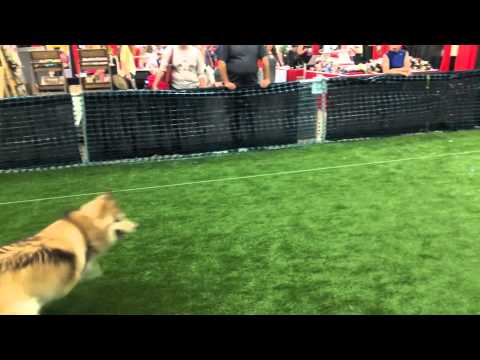 We will definitely be going back next year, not sure when it will be scheduled, but they did say it would be a two-day event next year instead of one day!