We decided to take the dogs canoeing late Sunday afternoon. It was a self-supporting trip so we both had to drive. My truck has air conditioning so the dogs rode with me. In case you were wondering 'self-supporting' when canoeing is when we have to provide our own transportation to and from the launch point and take out point on the river.
The trip started out pretty uneventfully, we decided instead of just following the current, we'd paddle upstream a bit. It provided us with more space and less traffic on the river so we could swim the dogs.
There was a mild current, but nothing to quick and the water level at its deepest was at our waist. We stopped at a gravel bar to let the dogs out for some playtime.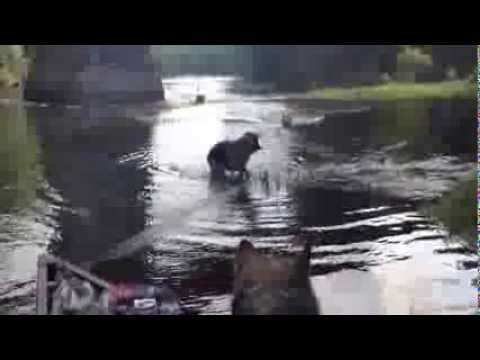 We ended up getting Chloe involved in a game of fetch the bailing sponges.
 Hankster ended up getting jealous.
 Putt-Putt sat in the canoe waiting for us to get back in the water not wanting any part of the other pups playtime.
Willow got bored with watching Hank and Chloe play fetch, and lay down to groom.
When we finally did get back in the water to paddle downstream everyone was thoroughly soaked, but happy.
By the time we finished our trip and were loaded back up for the trip home, everyone was tapped out.
A tired dog is a happy dog!