Second day of camping, we awoke to the dogs fidgeting and trying to get out of the tent about 7:30am. Took the pups for a quick potty walk and saw this:
Then sat down with some coffee and waited for everyone else to wake up.
Once everyone woke up, Kevin made pancakes!
Even the pups got some!
We played a bit of frisbee after breakfast
Then Kevin and the kids took the pups for a short walk while the rest of the adults packed up to go home. (We were late in getting there so we chose to stay an extra night to make the trip worthwhile)
Then it was off to our next adventure! The 6.4 mile Blue Heron Loop (which we didn't finish)
The first place we stopped had a pretty little cave,
Where Willow had her fist encounter with a turtle!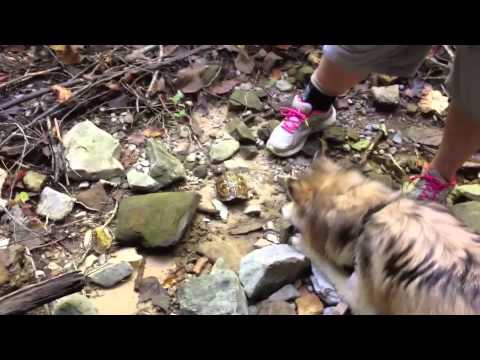 Putt-Putt saw it too, but wasn't as interested
Somewhere around the 1.5 and 2 mile mark we came to our first overlook
*Some pictures courtesy of Kevin's nieces Stephanie Adkins & Azure Carter*