Happy Easter everyone!
If you follow us on Facebook, Twitter, or Google+ then you would know that we were thrilled to find out we won the Animal Planet Easter Basket Giveaway on Bark and Swagger!
We received our basket this past Thursday, and we wanted to wait to share the pups opening the box it came in and going through their basket until Easter proper.
And now the main event!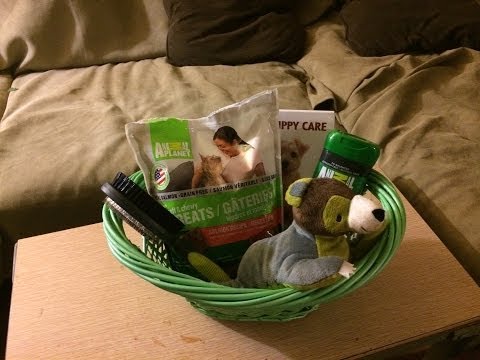 Thank you!
Basket Content:
Our basket contained a bottle of Animal Planet Moisturizing Shampoo with Oatmeal
A new Animal Planet Bristle and Slicker Brush for long or coarse coats
An Animal Planet plush squeaky toy in the shape of a Bear?
Dogs 101 Puppy Care book (I still haven't started reading it yet, but I did flip through it and it looks packed with lots of good info)
and a large bag of Animal Planet Soft and Chewy Salmon Treats; they are made in the USA, grain free, no artificial sweeteners/colors, no filler, no animal by-products, and salmon is the only meat protein source.