Operation Education Animal Rescue is a 501(c)3 nonprofit group. If you would like more information on how to help OpEd, whether it be to foster, search for an adoptable companion, or donate to help with food or medical bills of the animals in their care please visit their website.
**Pupdate 3/28/14**
Recent activities: ADOPTED!
**Pupdate 1/20/14**
Recent activities: Jake's Pupdates! #5
**Pupdate 12/3/13**
**Pupdate 11/29/13**
Recent activities: Jake's Pupdates! #3
**Pupdate 11/18/13**
Activities this past week: Jake's Pupdates! #2
**Pupdate 11/12/13**
Activities this past week: Jake's Pupdates! #1
**Pupdate 11/5/13**
I want to give a huge thank you to all of you helped share Jake and let you know that Jake is now SAFE, he has been signed over into the custody and care of Operation Education. He needs donations for his heartworm treatment, and still looking for a furever home.
**Pupdate 11/4/13**
Just got back from the Vet's office and Jake is heartworm positive. For more information on Jake's search please see today's blog post.
**Pupdate 11/2/13**
I have received a few emails and comments asking our location; We are located in Rutherford County Tennessee.
**Pupdate 11/1/13**
The family is now in town to finalize estate proceedings, and have met Jake but are unable to take him with them due to uncompromising work schedules. So I am now quite sure we have even less time than we anticipated to find him a home.
Jake is a sweet and lovable Elder-Bull, about 9 years old. He is very playful and will play ball for as long as you are willing to throw the ball. He loves belly rubs and butt-scratches, he is good with children, and up until recently had a playmate so should be fine sharing attention with one other dog. He has had very little if any interaction with cats, so we are unsure of how cat-friendly he would be. He is used to constant companionship with people both inside and outside, and would probably be happiest with someone who either works from home or has a stay-at-home spouse.
If there isn't a ball to play fetch with he does take a while to warm up to strangers.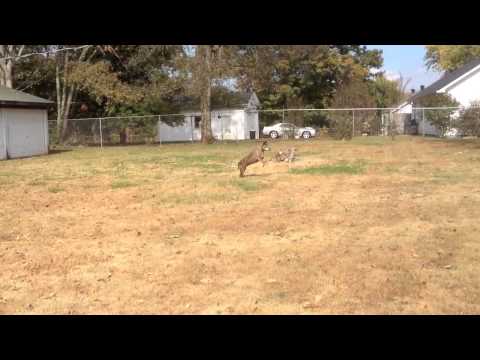 Our knowledge of his medical history if very limited; he is neutered, we believe a year overdue on vaccinations, and heartworm/parasite status is unknown.
Jake has been through a lot of loss this past year, first his 'Mom' then his 'Brother' and now his 'Dad'. This poor guy just needs someone to love him.
If you know of any rescues with openings, or potential adopters please email me at victoria.carter@meetthefurbombers.com I will update as they occur.
My thanks, and Jake's too!